After starting writing this article, I was sure it would take me more than one post (and this is because I think of how hard it can be to read an article that is 4-5-6 pages long), so I am sorry and happy at the same time. Sorry, because I will deliver the information to you in multiple days, so it will just be like filling a cup drop by drop, but at the same time can't say I am not happy when I have the chance to interact more with you via my blog.
This article is a continuation to the one we had some weeks ago (found here). I have promised you then, that I will come with an article where we are building an PIE regarding stocks. But before that (for the ones who have our twitter you already seen it here), we have some news about the last PIE. The auto-investment works, it's great and the best…. it's on auto.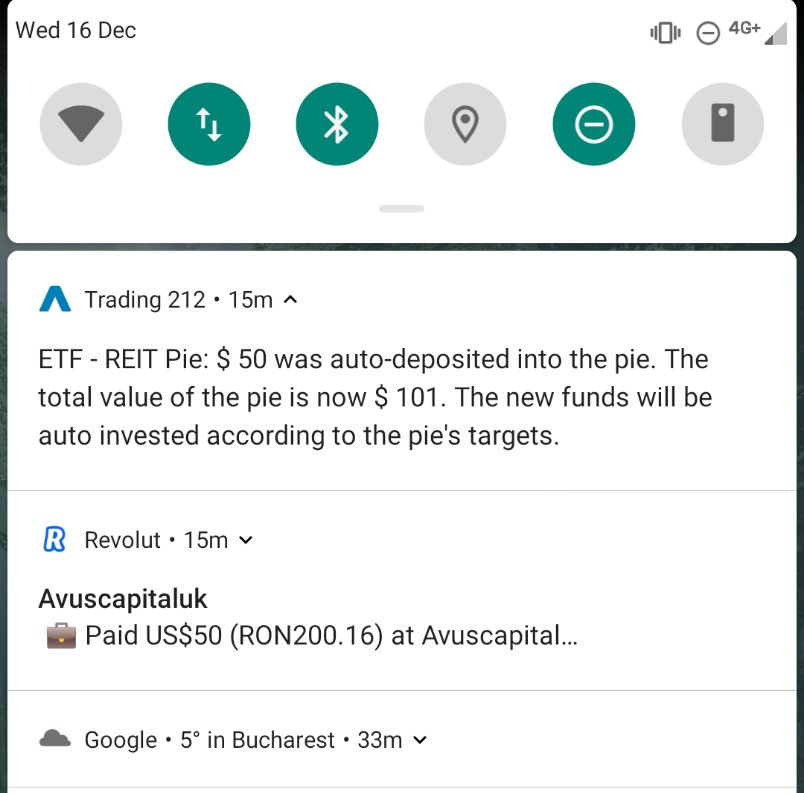 Since the article mentioned, I investigated the platform and did some research. The following statements will clarify some questions we had:
One of the problems we had is that when creating the ETF PIE we didn't have the choice to use the money already credited to the account. This is FALSE. We could start with 0 balance as initial deposit and we have the option to add money to the PIE after it was created
The second problem was that when creating the PIE we used the phone as a desktop platform was not available. This is FALSE. After the creation of the PIE, on the desktop platform I had a redirect button to the "newer" platform. It looks nice and we can see the PIES there. So this time, we will use the PC.
Not to mention, I found another sweet thing. Sharing the PIE with you and this is the link (www.trading212.com/pies/l7J4dGim5GaPcOM3QwI3rPQuuGJT).
This is for introduction, let's start getting into the point of the article.
A Pie with a flavour of Stocks
The goal of this PIE is to create an auto-investment strategy, formed from around 10 stocks and I don't exclude the case when we will need to rebalance the portfolio, as time "flies".
One of the reasons I did not start this article earlier is that I wasn't sure on what stocks to choose to analyze, not even the domain (energy, regenerable energy, tourism, services, etc.). In fact, this was the hardest thing to decide.
But after reading one of Forbes articles (found here), I decided to follow the direction of Entertainment, Tourism and Restaurants (of course I read multiple articles, not just one). On top of that, we will look for some Energy stocks and maybe healthcare.
But why tourism? Why entertainment? Well, considering this year and how much they lost because of the pandemic, I expect that the next 1-2 years will grow back to the current level or even higher. I also take into consideration that the same year will be the same as this one, despite all the good news regarding the vaccine. And that's what I would love to see, I would love this sector to boom back to life when we will have a good vaccine, good prospects and low number of infected cases and people will start traveling again.
I like energy stocks and it's not the first time I pick them out. I have them on BVB and I have ETFs that follow energy companies, but it would be nice if we find a hidden gem to follow.
I am a bit in doubt for healthcare, with so many things happening now. Imagine if you pick a company that is doing a vaccine, and it won't be good, I bet the stock will plunge
Picking The Ingredients
My idea is to analyze and find stocks, add them to the PIE and do the settings together, as before. The search will take a while and I hope to finish before the years end.
What I promise is to deliver between one and three stocks, per article, and the reasons for choosing them.
To search the stocks we will use a small trick. I know there are some stock screeners where you could select the market cap and dividend yield and such…but I was thinking to use an ETF screener. Just hear me out.
When selecting an ETF from a sector, like energy, you get access to that type of ETFs, based on the Energy companies. The ETFs already picked the strongest companies and the most promising ones (with a bunch of financial analysts and advisers). So why not analyze the companies from that ETF and select the ones that are the most attractive?
For the ETF screener I will use justETF site.
Now because I don't want to start an analysis at this hour and I want it to be nicely framed in an article, I will call it short here. After all, it's never a good thing to start searching for the ingredients when you are hungry. I hope you will enjoy this miniseries. Please let me know what you think.
Disclaimer: I am not a financial consultant! All the information you find here are my decision, I have taken at that moment, on my own analysis. I am open to any type of discussion about money. If you want to replicate my portfolio take into consideration that it is your money and you can have losses.
Heard Photo by Priscilla Du Preez on Unsplash